Charity Begins At Home At The Enterprise Park
March 14, 2014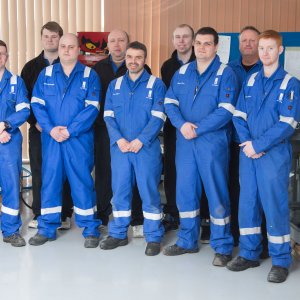 The age old saying that 'charity begins at home' has never been truer as 10 staff from EFC Group signed up as blood donors with their neighbour, life science technology company AccuNostics this month.
As the 32 medical researchers based in Forres move ever closer to making a technological breakthrough in the accuracy of blood glucose monitoring devices, which will potentially improve millions of lives across the world, they also increase their need to source new blood from people living and working in the Forres and Moray area.
Giles Hamilton, CEO of AccuNostics says:
"We've created a rod for our own back. The closer we get to making a breakthrough the more blood our researchers need to fuel our experiments.

"Fortunately with a business like EFC Group on our doorstep, willing to let its staff make a stone's throw trip to our office and give 80mls of blood every six weeks, we're managing to keep pace with our advancements in the lab. But we do need more.

"I would like to say a massive thank you to the team at EFC, because we need them. And I would urge anyone else out there who has been affected by this life altering disease. Whether it's your granny, mum, dad or a pal, if you know someone who has diabetes you'll know how horrendous the condition is. It takes only 30mins to donate with us and you can even pop in before work."
AccuNostics' expertly trained in-house phlebotomist is on hand from 7am until 9.30am Monday to Friday. Owing to the nature of the work in the lab, the blood samples they use must be fresh and used the same day. On average the team get around four donors per day, but they would like to increase this figure to six.
Andy Burton, Group Production Manager of EFC Group adds:
"We're always on the lookout to help local businesses as part of our corporate social responsibility programme and what better cause than a medical research company on our doorstep.

"It was entirely up to the individuals if they wanted to get involved because we're not in the business of making our teams give away their blood, so I was very humbled by having 50% of our team respond positively to the idea.

"We've promised to attend the lab routinely and look forward to seeing the results when the team announce their breakthrough because we can say that we were part of it."
Share this article:
---
Related articles: