Home

/

Conductor Tensioning Unit (CTU)
Conductor Tensioning Unit (CTU)
A Conductor Tensioning System maintains a primary, vertical tension and therefore a lateral stability to the conductor string.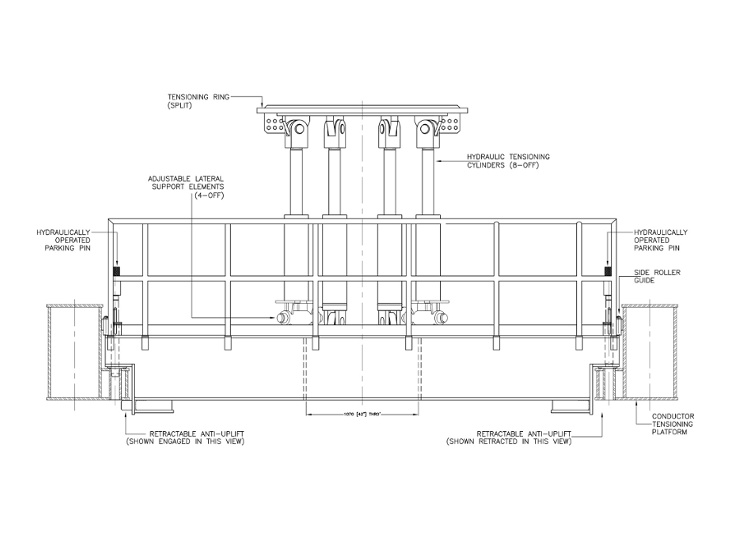 Conductor Tensioning System consists of an elevated tensioning ring pinned to and supported by hydraulic tensioning cylinders, each of which are interconnected to a compensated hydraulic circuit employing bladder type accumulators.
When the cylinders are hydraulically extended to their mid-stroke, the tensioning ring exerts a balanced upward pressure against a collar fitted around the conductor, thereby imposing vertical tension on the conductor string. Load-induced variations in hydraulic pressure in any of the tensioning cylinder circuits are compensated for by the accumulators, which maintain and balance hydraulic pressure during variations in tension. This causes stroking out or retracting of the hydraulic cylinders over their allowable compensation stroke, thus maintaining tension in the Conductor String.
| FEATURES | BENEFITS |
| --- | --- |
| Rig Type | Can be retro-fitted or supplied new to any rig design |
| Tensions | Up to 400,000 kgs |
| Loads | Side loads up to 80,000 kgs |
| Bespoke Design | Any rig layout or restriction |
| Certification | Classified for Zone 1 installation |
| Setting & Charging | Provided with integral hydraulic power unit and control console for setting cylinders and charging accumulators |
| Angular Deflection | Reduces bending loads imposed on the conductor string |
CTU is either supplied as Compact (up to 230,000kgs capacity) or Large skid-mounted split CTU (up to 400,000kgs capacity)
Classified for Zone 1 installation
---
Interested in Conductor Tensioning Unit (CTU)?
Give us a call and advise:
1. What rig design is it for?
2. Is it a newbuild or retrofit?
3. What maximum tensioning capacity do you require?
Call us