Home

/

Liquid Seal Monitor (LSM)
Liquid Seal Monitor (LSM)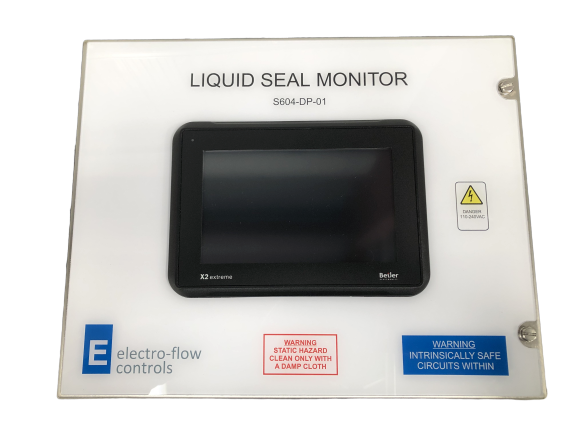 HMI Liquid Seal Monitor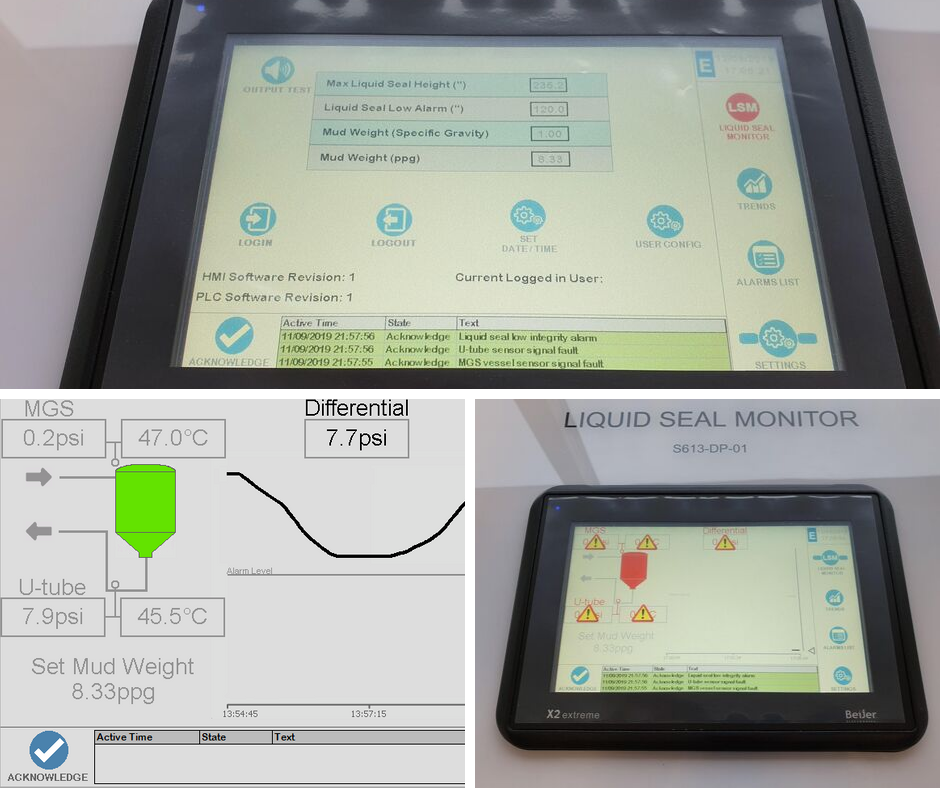 HMI Liquid Seal Monitor Screenshots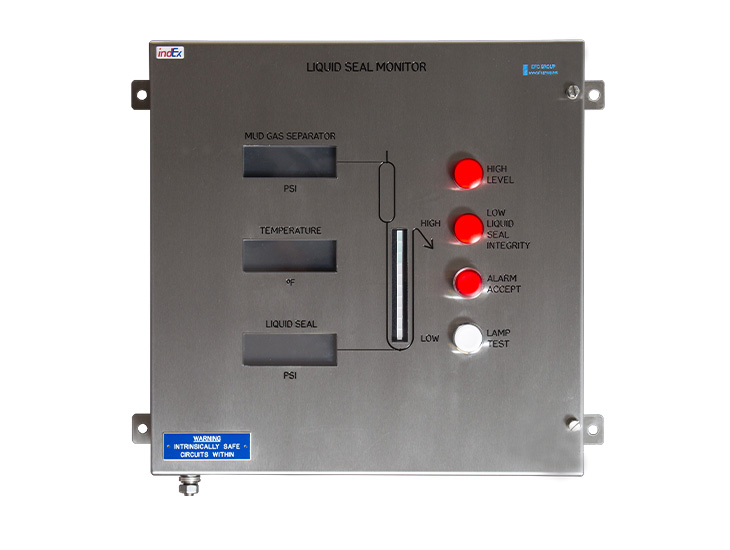 LSM22BG - EFC's core well control liquid seal/mud gas monitor
Finescale Gauge with Integrated Liquid Seal Monitor
EFC Group's family of Well Control Instrumentation can be provided as independent systems or it adds value to the Choke Control System of any rig.
EFC Group's LSM offers a differential pressure monitoring system, which continuously compares the internal pressure of the separator with the hydrostatic pressure at the base of the dip tube/U tube. It is compatible with all liquid seal arrangements.
During the process of killing a well, it is the function of the Mud Gas Separator (MGS) to separate gas from the return mud after it has been circulated through the choke manifold. The separated gas is vented to atmosphere through a vent-line and the 'degassed' mud is returned to the mud pits. The mud gas separator has to contend with the surging flow conditions throughout.
These surges can be frequent and violent; especially in the transient period as the gas bubble is circulated from the well. In these circumstances it is possible for the separator to be overloaded and the liquid seal breached. Gas blowing through to the mud pit area then occurs, creating a highly dangerous situation that should be monitored to enhance safety of drilling operations.
The EFC Group LSM continuously compares the internal pressure of the mud gas separator with the hydrostatic pressure at the base of the U Tube/Dip Tube. When the liquid seal is intact, the pressure inside the separator will always be less than the hydrostatic pressure in the U Tube/Dip Tube. If the two pressure readings converge, however, this is a positive indication that the liquid seal is in danger of being breached. By choosing a pre-determined minimum value for this differential pressure, the operator can set an alarm threshold to warn the driller of imminent blow through, allowing remedial action to be taken.
| FEATURES | BENEFITS |
| --- | --- |
| Visual Indicator | Universally recognised traffic light warning LED Bargraph |
| Pre-set Alarm Height | Alarm will trigger at preset 10ft, or it can be calibrated to suit Rig operations |
| 4 Digit Indicators | Clear pressure displays |
| Engraved Mimic (Option) | Represents degasser or u-tube for ease of human interface |
LSM22BG
LSM = Liquid Seal Monitor
2 = 2-off digital displays
2 = 2-off pressure sensors
BG = Bargraph
---
Interested in Liquid Seal Monitor (LSM)?
Is the LSM something you require for Well Control Safety and/or to meet Operator requirements?
For a quote please advise if you require a standard LSM22BG or ABS-CDS compliant version?
What is the alarm height you require on liquid seal height?
Call us