HPHT Monitoring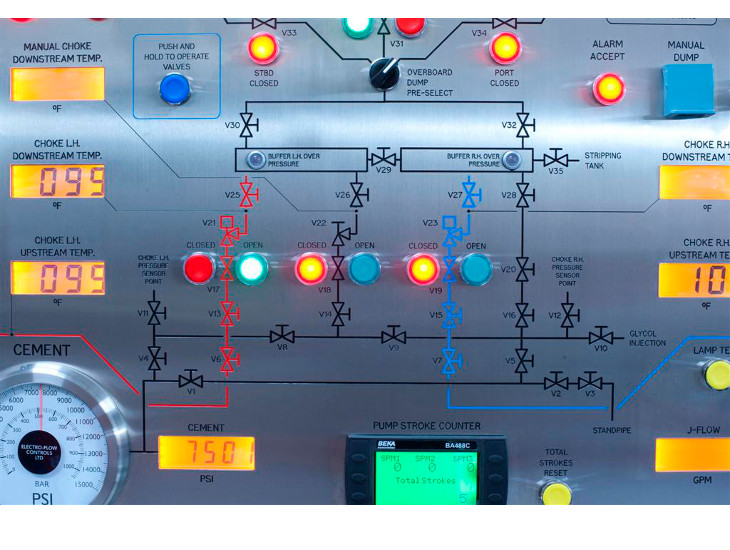 HPHT monitoring, valve status & overboard controls for Choke manifold
HPHT monitoring is a specialised well control instrument package designed for rigs with 15,000psi rated equipment, operating in fields with high wellhead pressures and temperatures.
HPHT systems monitor and record upstream and downstream pressure and temperatures of the Choke & Kill manifold, standpipe & BOP.
HPHT monitoring systems typically include:
4 or 5 Temperature Loops – Choke, Kill, Buffer, Flowline and BOP
3 or 4 Pressure Loops – Choke, Kill, Buffer and BOP
Strip Tank Level – a dedicated stripping tank can be included.
Liquid seal monitoring, ensuring integrity of liquid seal is alarmed giving warning before a potential blow through
A typical panel usually incorporates the following
Liquid seal monitor and alarm
Manifold temperature and pressures, non-intrusive sensors used where possible to gauge temperature of flowing fluid rather than a static, dead-end sensor
BOP temperature or pressure probe, this has flange and length to suit rig specific BOP
Pump stroke counter
Choke Controls can be integrated with the full range of well control instrumentation referenced above
Gylcol injection unit is a complementary addition, this facilitates the pumping of glycol 'acts as anti-freeze' into drilling choke & kill manifold
All systems and component equipment are designed and manufactured to operate in Zone 1 areas as required.
| FEATURES | BENEFITS |
| --- | --- |
| Wrap around temperature sensors | Non-intrusive, gives flowing temperature reading and does not need another access point in C&K manifold |
| Pressure gauges | Gives 8" or 6" analogue dials that are easy to read by users, a critical benefit during well control operations |
| Stainless steel panel | Suitable for harsh, salt laden environments |
| User interface | Engraved manifold mimic illustrating instrumentation points is optimal for understanding information |
| Working Temperature | Temperature sensors operate -150degF to +350deg F |
ATEX, IECEx, API, DNV, ABS, ABS-CDS, NORSOK as required
---
Interested in HPHT Monitoring?
Preparing to drill an HPHT well? Give EFC a call or supply us with:
C&K manifold GA drawing to start our discussions on optimal sensor placement
Advise which combination of systems you want: such as

C&K pressure & temperature
BOP probe
Valve indication
Valve control
Pressure monitoring
Call us