Access Basket
EFC Group offer a CE compliant, series produced model with a telescopic extension boom, which as standard is ready for operation in a Zone 1 hazardous area.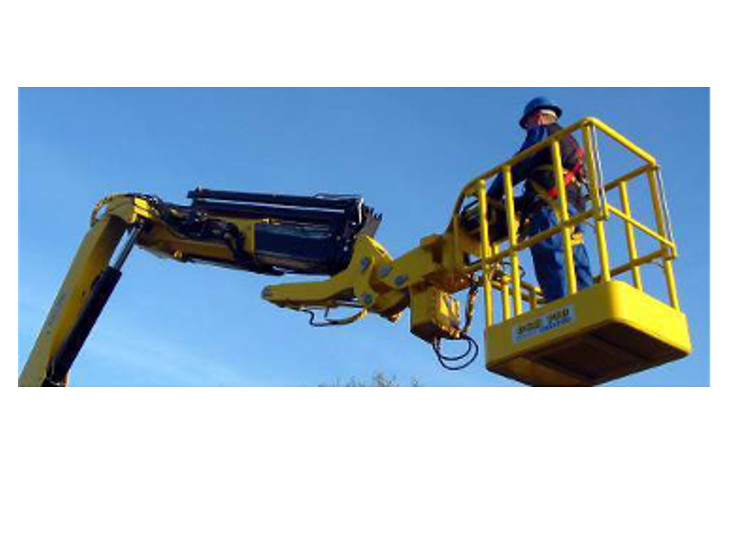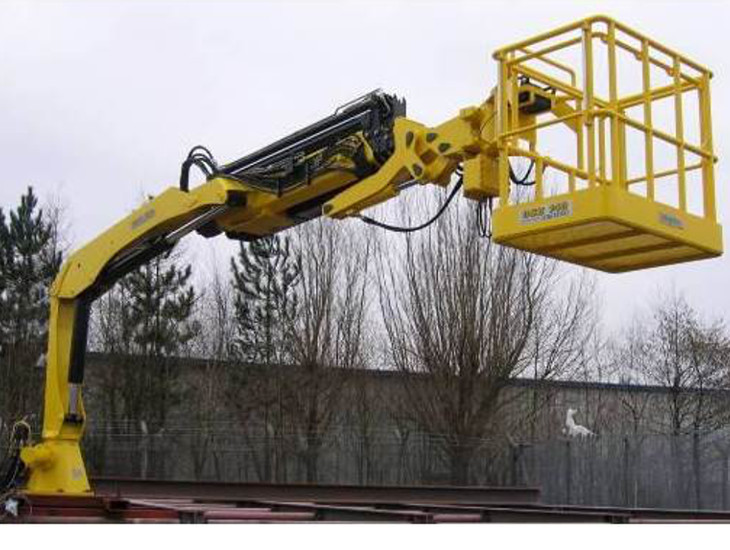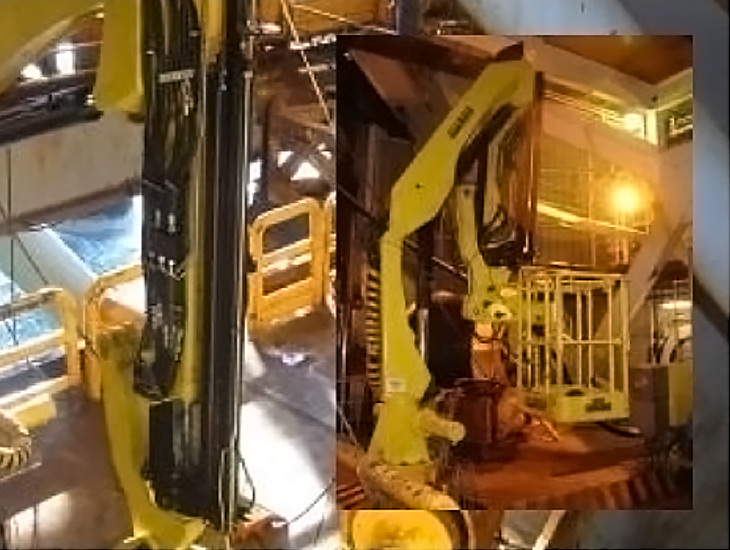 EFCOSB140 Access baskets are suitable for Zone 1 Hazardous Areas
The elevating Offshore Access System consists of hydraulically operated boom systems with a Work Basket sufficient enough to support one man plus small hand tools.
EFCOSB140 is equipped as standard with Ex proof controls and connections for air tools within the Work Basket and a lockable Secondary Control Station for remote and emergency operation. The secondary controls can be switched to over-ride the primary control within the basket.
The extent of our compliance with Standards and Regulations is restricted to those mentioned specifically in any offer, the main design standards used are DIN 15018 and also EN280 where practical.
Column
The slewing column is a 'box' type fabrication, which incorporates the main boom and main lift cylinder pivots.
Boom System
The main boom is a fabricated box section with local reinforcing at the pivot and cylinder anchor bosses. The telescopic section is supported on slider pads to ensure self-aligning during telescoping The boom sections are driven by double acting hydraulic cylinders.
Hydraulic System
Proportional marine specification main control valves incorporating anti-shock valves for each function.Load holding valves are fitted on all cylinders and slewing for maximum safety
Work Basket
Automatic hydraulic self-levelling system to compensate for different boom angles throughout the operating envelope. Suitable for 5º/2º characteristics.
Safety Systems & Emergency Recovery: Hydraulic Positive Overload Prevention System
The overload cut out system stops the motions that are generating the overload but leaves active the motions that allow the machine to recover from the potential overload position and therefore enables the machine to remain operable.
No movements of hydraulic cylinders are possible when the machine is switched off.
An independent, portable, air driven power pack can be used for emergency recovery in the event of main systems hydraulic failure. This system plugs into the EFCOSB140 hydraulic system using quick release couplings and requires a 7 bar air supply from the platform.
Mounting Base
As an optional extra a tubular mounting base with bolted flange for mounting to rig's supporting structure can be supplied
| FEATURES | BENEFITS |
| --- | --- |
| Design Stadards | Typically DIN15018 and EN280 |
| Zone Rating | Zone 1 |
| Capacity | Principally for one man plus small hand tools, up to 280kg total weight There is option for 2-man basket and for basket to be rotating |
| Maximum outreach | 14.5 metres (47 feet) |
| Load Capacity | 280 kg (616lbs) within work basket |
| Working temperature | Temperature sensors operate -150degF to +350deg F |
| Slewing system | Maximum 420deg, this can be limited mechanically |
| Boom system | 180º (19.5 m / 63 ft.)elevation envelope. 80º above and 100º below horizontal |
| Boom pivot pins | Treated steel to prevent corrosion, running in bronze bushes. |
| Operating pressure | From a 206 bar / 3000 PSI ring main supply with inline filtration |
| Paint | In co-operation with International Protective Coatings, leading specialists in marine coatings, a marine finish process is used. This extends the corrosion resistance and resilience giving increased life span and reduced maintenance |
| Hydraulic construction | Stainless steel hydraulic pipes and hydraulic hoses complete with Stainless steel external fittings |
| Safety | Hydraulic Positive Overload Prevention System supplied as standard 2-off Harness attachment points provided Double safety handrail and drop bar entry system. |
Technical data may be subject to change dependent on operating conditions, characteristics and requirements of the relevant classification society it may be necessary to de-rate lifting capacities of the machine.
Design standards
Typically DIN15018 and EN280
---
Interested in Access Basket?
Please give us a call confirming:
Capacity
Outreach
Do you require a rotating basket or a 2-man basket
Call us