Home

/

Finescale Gauges (FSG)
Finescale Gauges (FSG)
EFC Group FSG345 with integrated LSM22BG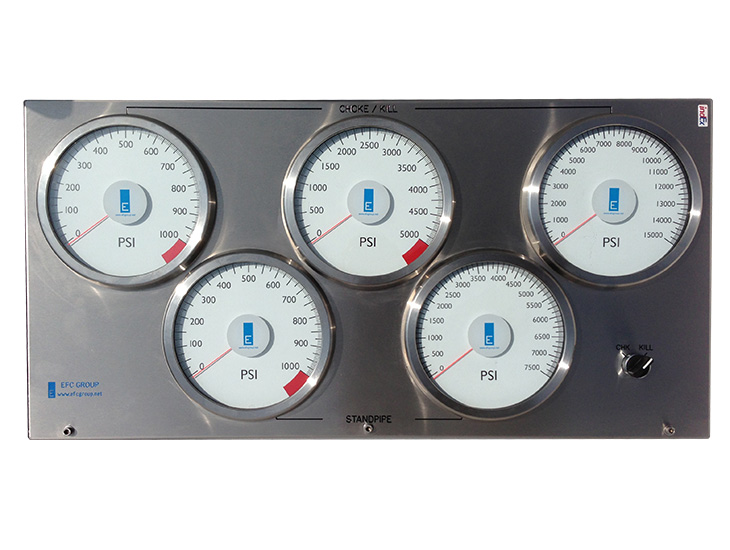 Finescale Gauge Set, high resolution cascaded pressure gauges for C&K manifold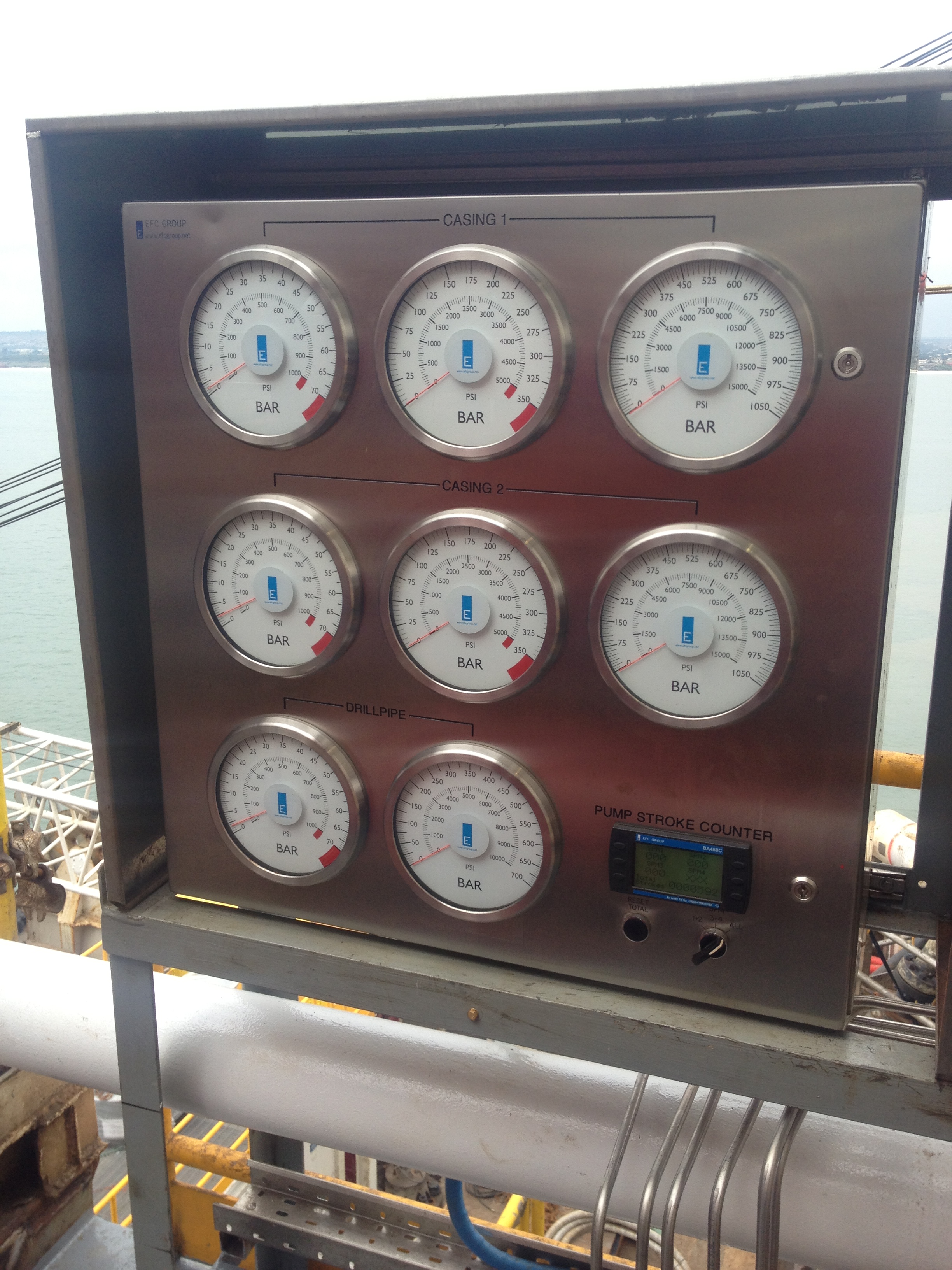 EFC Group Finescale Gauges FSG310 On-site
The Finescale Gauge set is part of EFC's family of well control instrumentation, which adds value to the choke control system of any rig.
EFC High Resolution Finescale Gauges (FSG) are to designed to give instant and accurate indication of pressures on the choke and standpipe manifold. With a resolution far in excess of the traditional hydraulic or digital Casing and Standpipe gauges found in every Choke Control Panel. The cascading gauges also allow easy to view trends.
As pressure rises, gauge pointers move simultaneously. On the illustrations shown, three gauges indicate Choke & Kill, two gauges indicate Standpipe pressure. Only 3 sensors are required, one each for Choke, Kill and Standpipe. Additional 'slave' FSG sets can be added to display pressure on the manifolds. Displays are EFC M25 analogue gauges, intrinsically safe suitable for Zone 1 with no purging requirement.
FSG's are sets of high resolution, 8" gauges, displaying steady, accurate pressure changes in the drilling manifolds, providing vital information during critical drilling & kick-management operations. Two or three 'cascaded' gauges simultaneously indicate pressure.
Finescale Gauges Monitor:
Choke Manifold Pressure
Kill Manifold Pressure
Standpipe Manifold Pressure
Enclosure shape and size can vary and may be tailored to suit available space. Unlike hydraulic systems, no manual isolation is required as gauge limits are reached. EFC's electronic solution ensures no damage to gauges or sensors. Scales can be customized to client requirements and can be complemented with digital readouts.
The gauges are normally mounted close to the rig's Choke Control. Repeat displays - without the need for additional sensors - can be mounted at the drilling manifold itself, providing useful backup
| FEATURES | BENEFITS |
| --- | --- |
| 0-1,000psi Low Pressure Scale | 10psi Increments displayed |
| Analogue Gauges | Easier for user to identify an increase or decrease in pressure than a digit only display |
| Cascaded Gauges | Simultaneous display on 0-1,000psi, 0-5,000psi and 0-15,000psi |
| Overscale Protected | No manual isolation (unlike hydraulic gauges) |
| 4-20mA Signal | Robust signal with a high level immunity to interference over long cable runs |
| 4:1 Deboosted | Use in conjunction with 4:1 Piston Isolator & Manifold Instrument Interface (MIM) |
FSGXY
FSG - Finescale Gauges
X - quantity of sensors
Y - quantity of gauges