MIM Panel
Flexible Choke & Kill Manifold Instrument Interface providing several feeds
EFC Manifold Instrument Multiplier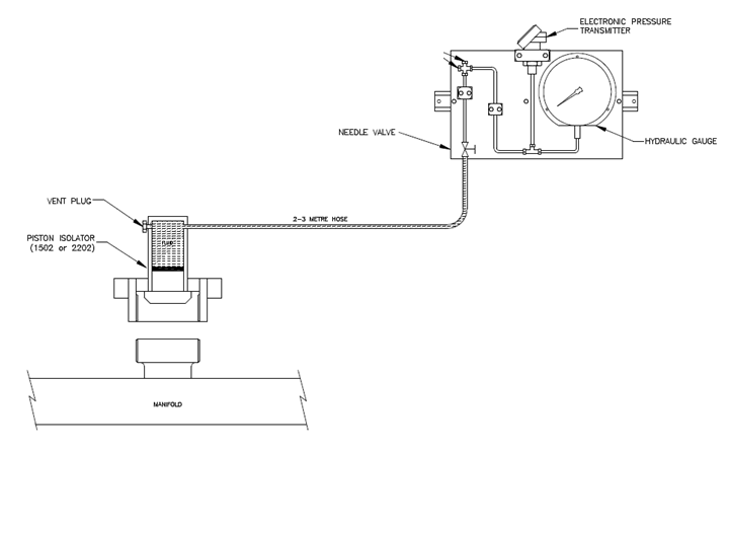 EFC Manifold Instrument Multiplier Setup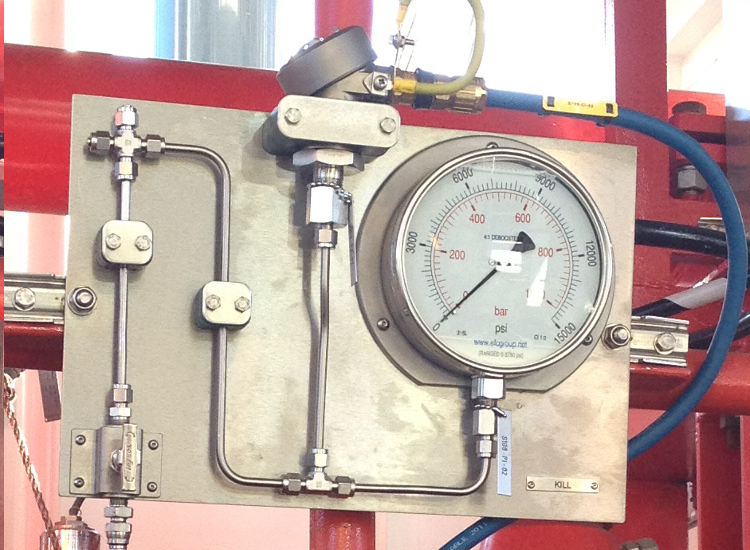 EFC Manifold Instrument Multiplier
The MIM is an improved manifold instrument interface for use on the Choke & Kill drilling manifold, allowing one isolator to feed several components. The compact assembly fixed to stainless steel plate speeds installation. A typical MIM is complete with pressure transmitter and a local gauge is an optional inclusion. The Gauge can be scaled to suit and as a standard safety feature it is provided 4:1 de-boosted.
The MIM can provide pressure feed(s) to other components such as:
Another electronic pressure sensor (e.g. for the drilling instrument system)
Local hydraulic gauge
Remote hydraulic gauge
Pressure recorder
Provide service company access to manifold pressure without the need to disturb the manifold, two additional ports provided
The MIM Panel is mounted in a convenient to view and accessible location, connected via needle valve and hose, typically by 4:1 deboosted piston isolator, 1502 or 2202, standard or H2S service to the drilling manifold.
| FEATURES | BENEFITS |
| --- | --- |
| Hydraulic Gauge | Local pressure reading (optional) |
| Stainless Steel | Robust, suitable for offshore, salt laden environment |
| Redundancy | Can be increased with second pressure transmitter |
| Multiple Manifold Access Points | Without the need for additional 2" T-Pieces |
Can be ATEX, NORSOK Compliant
---
Interested in MIM Panel?
Please give us a call to kick-off discussion to tailor a design package to suit your requirements.
Call us