BOP Diverter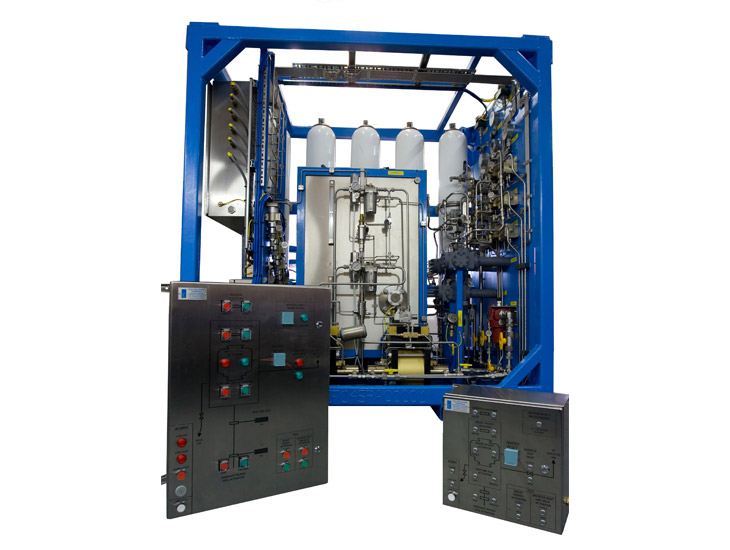 Hydraulic Control Skid c/w remote electric panels for KFDJ Diverter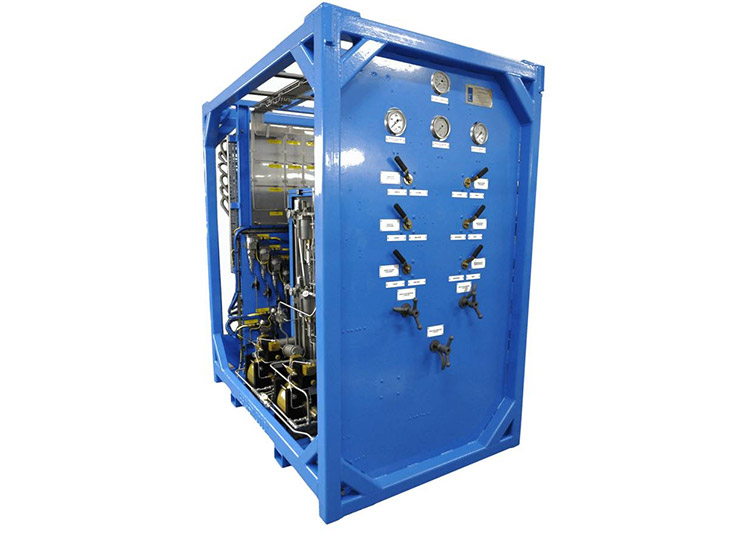 Accumulators can be integrated with Hydraulic Control Valve (HCV) skid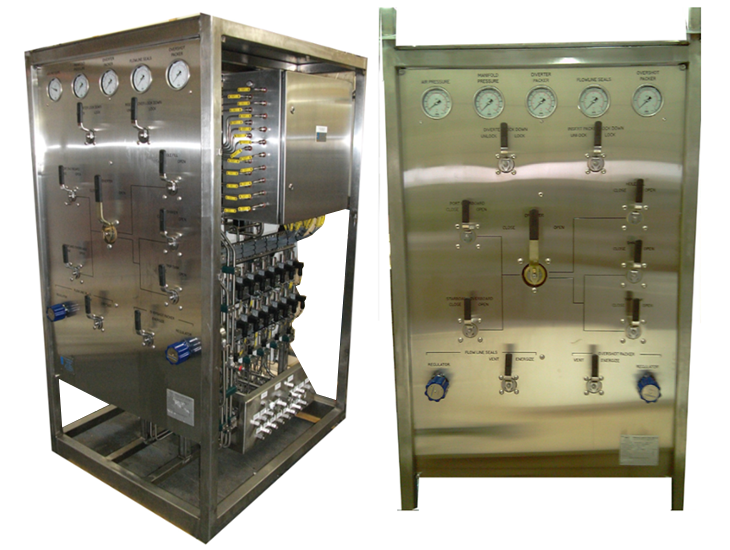 The KFDJ or KFDS Diverter Control System has been developed for challenging and higher pressure drilling conditions
A Diverter Control System can be a freestanding skid, it is designed to prevent the Diverter from shutting in the well. The EFC Group Diverter Control System does so by opening vent lines and closing mud system valves (if applicable) prior to closing the Diverter annular sealing device.
A typical EFC Diverter Control System includes:
EExd solenoid-operated pilot valves for zone 1 area complete with hydraulic power unit
Driller's and Toolpusher remote electric control and display panel
Sequenced interlocks ensures intuitive and safe operation of the KFDJ/S/or similar diverter with numerous functions and sequencing
System complies with the requirements of API 16D, API 64, 2nd edition dated Nov 2001
Hydraulic control interface skid or Hydrualic power unit
Remote Valve controls are illuminated push buttons on a simplified mimic. When a control button is pushed, the illuminated button indicates which valve and the Open/Close status. Lights on both panels are illuminated. These units can be retrofitted to existing BOP Control systems.
| FEATURES | BENEFITS |
| --- | --- |
| Comprehensive Functionality | Open / Close, Latch / Unlatch, Lock / Unlock & Activation for: Annular, Insert Packer, Primary & Secondary C&K line HCR Valve, Input Packer, Lock Down Dogs, Support Dogs, Diverter Lockdown, Insert Packer, Vent Line Seal, Overshot Packer, Flow Line Seal |
| Redundancy | Remove any single point failure risk |
| Sensor type | Aids preventative maintenance with self test & diagnostic reporting |
| Fibre Optic Network | Reduces installation cost & provides 'self-healing' capability |
| Sensor type | Aids preventative maintenance with self test & diagnostic reporting |
| Electric Panels | Upgrades legacy pneumatic controls |
| Remote User Interface | Colour Diverter mimic overlay |
| Safe Remote Operation | Two hand operation plus alarmed covers for critical functions |
| Warranty | 2 years, extendable to 5 years with annual service visits |
---
Interested in BOP Diverter?
If you require an upgrade or replacement Diverter Control System we can begin a budget quote with following details:
What is the make & model of Diverter, or please provide the swept volumes and operating pressure
Do you have function list and any sequencing requirements?
Do you require an HPU or will you use an existing power source?
Do you require an onboard survey to check API compliance?
Call us