EFC Group Announces Plan to Recruit 50 People in Highlands
July 01, 2013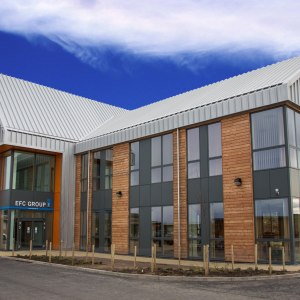 EFC Group, a leading designer and manufacturer of instrumentation, monitoring, handling and control systems for the global oil and gas industry, has announced plans to recruit up to 50 people in the Highlands as part of its rapid expansion in the area.
The recruitment drive follows an acceleration of EFC's growth strategy in Forres, with the launch of a second base in Enterprise Park in May this year representing a £100,000 investment by the firm. A satellite office was previously opened in the same business park in September 2012.
EFC Group CEO Bob Will said:
"The move to have an EFC base in Forres has already proven successful, this has led to phase three expansion plans being implemented to create a world-class manufacturing and testing facility, with 10,000ft2 workshop and 6,000ft2 office space.

"In order for EFC to fulfil future growth and expansion plans, we have identified the potential to recruit up to 50 staff for the Forres plant."
EFC currently employs 18 people in at the Forres base - eight more staff than originally anticipated. New personnel sought for the region includes project and software engineers to design and project manage EFC's extensive range of Choke, BOP, Diverter and Managed Pressure Drilling Control Systems.
Mr Will continued:
"We are seeking to draw on the talent pool, the wealth of experience and expertise we know excists in the Highlands, to help realise our expansion plans. By having a Forres base we are able to tap into this and offer an alternative to those who are tired of the commute to Aberdeen."
The company achieved turnover of £14million last year, with projected turnover expected to exceed £30million by 2016.
Including the Forres base, EFC Group employs 140 members of staff across its offices in Aberdeen, Leeds, Houston, Singapore and Abu Dhabi. The Group also has international representation in Norway, Mexico, India and Brazil, making it well placed to serve its global client network.
In preparation of the long-term recruitment drive to find experienced personnel, EFC is holding a Recruitment Open Day, 10am – 2pm, Saturday 3rd August at Forres Enterprise Park.
Share this article:
---
Related articles: