EFC Group Awarded for Significant Business Growth
June 29, 2015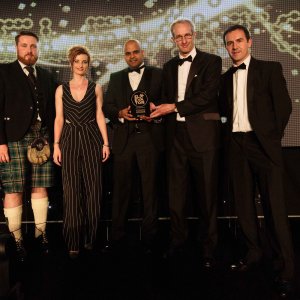 EFC Group, a leading designer and manufacturer of instrumentation, monitoring, handling and control systems for the global oil and gas industry, is proud to announce that it has won the 'Business Success Over Three Years' category at the Elevator Awards 2015.
Previously entitled The Grampian Awards for Business Excellence, the Elevator Awards were relaunched this year. Winners were announced at a black tie ceremony at the Mercure Aberdeen Ardoe House Hotel and Spa on Thursday, 25 June 2015.
The award win comes in recognition of EFC Group's strong growth and record sales figures over nearly three decades of business. In February, the Group announced that it was one year ahead of schedule for reaching its 2016 turnover target of £30million.
CEO of EFC Group, Bob Will, said: "I am delighted that the business achievements of EFC Group have been recognised by the local business community. Our success in this year's Elevator Awards is directly attributable to the hard work and dedication of the whole EFC team.
"Since the inception of EFC Group, we have experienced significant growth and we have continued to build upon our strong reputation for delivering a high standard of service and product quality. We pride ourselves on offering innovative solutions to the global energy industry and having a personable approach with clients. I see this as the driving force behind our success. I look forward to building on these achievements in the future."
The Elevator Awards celebrate outstanding achievements by businesses across the North East of Scotland, in categories which include Most Promising New Business, The Grampian Award for Innovation, Emerging Entrepreneur of the Year, and Employer of the Year.
Organiser of the awards, Elevator (previously known as Enterprise North East Trust), is a social enterprise dedicated to supporting the entrepreneurs, business leaders and employees of today and tomorrow by providing expert business advice and teaching entrepreneurship and enterprising behaviour. The Elevator Awards acknowledge entrepreneurial companies and individuals that are capable of leading the future prosperity of Grampian.
Share this article:
---